December 2017 Winter works
In the vineyard …
The sap of the vine comes down again. The end of autumn marks the beginning of the vegetative resting cycle of the vine, called dormancy. The vine will live on its reserves until its next vegetative cycle.
After the holes, comes the time to the maintenance of the trellising. Repair or replace broken stakes and headstocks.
As of November 16 is the resumption of the size ….
Cep taillé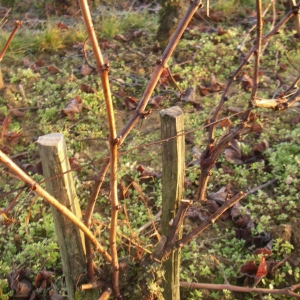 …. alternating with the burning of the branches.
In the cellar …
The 13 and 14 months are devoted to tapping certain appellations. The 2016 wines of Burgundy Passetoutgrain and Pinot Noir, Chambolle Musigny "The Charms" and Gevrey Chambertin are put in mass.
Then at the end of the month are the Vosne Romanée "Les Brûlées".