A bit of history : Eugène, René, Gérard, Pascal…
At each moment of its history our small family domaine stayed true to its fundamental values :

The love of working the earth, hard work, generosity. Each generation brought their own touch.
Eugène and René the founders.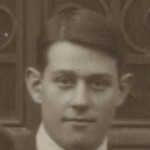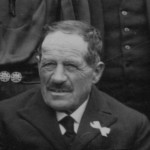 Eugène acquired the first parcels of the domaine, but kept his job as a wood-seller.
René was the first to make a career out of tending the vines.
During the war, René was imprisoned and put to work on a farm in Czechoslovakia, which served as training for working in agriculture. He favored rigorous pruning and plowed the soils by horse. One of the first vignerons in the village who strived to develop his own clientele, René would even host special clients for lunch on Sundays after church services by the abbot Just Liger Bélair.
With his wife Lucienne, he had three children: Jean (1938-2010), Jacqueline (1946), and Gérard (1948).
Though he originally planned on becoming an electrician, it was Gérard who would be obliged to take over from his father after Jean chose a career in the French armed forces over vineyard work.
Gérard develops the domaine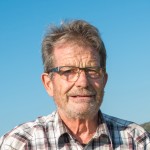 Gérard began making wine on his own in 1973;
However, a portion of the domaine's production kept René's labels until 1986. Gérard and his wife, Françoise, complement each other perfectly; both driven by the love of wine above all. This brought an additional touch of elegance and suppleness to the wines. The style became more gourmand. Françoise, thanks to her social agility, developed sales with individual clients (which made up more than 70% of the domaine's revenue).
With time came the modernization of the equipment used by the domaine, especially in the cellar in the beginning of the 1990s. Grapes were no longer crushed before being transferred to tank, but simply de-stemmed. A more modern pneumatic press replaced the old Vaselin press (with plates and chains inside a cage). The tanks used for fermentation are made of cement and wood, two traditional Burgundian methods.
The domaine grew with the additions of new parcels (notably Savigny-lès-Beaune Les Gravains and Chambolle-Musigny Les Charmes).
Pascal, an unexpected return…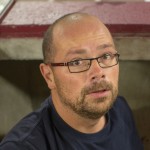 Pascal, first vinification in 2005.
Pascal grew up in the midst of the vines and cellar. After studying subjects unrelated to vines or wine (with a technical degree in measurements and physics from Reims, plus studies at the School of Material Engineering in Dijon), he worked in manufacturing (as a production manager and chief of project productivity) before he felt the urge to return to his origins. In early 2004 he enrolled at the C.F.P.P.A. of Beaune, then interned in the vineyards and cellar of Domaine Jacques Girardin in Santenay.
A return to the domaine by curiosity at the start, Pascal is driven by passion today. He works to preserve the foundations of the domaine, the traditions, though he also contributes his own sensibility to the domaine. The desire to return to agricultural practices closer what one would have seen before the 1960s quickly materialized.
Herbicides were abandoned as of 2006. After reducing doses of phytosanitary products (systemic and pénétrants that soak into the plants), he shifted to the use of contact products: the bouillie bordelaise (a copper-based treatment accepted in organic agriculture) and sulfur. In 2011, the domaine modified their methods of viticulture, not just using these contact products but also infusions, plant decoctions, and even biodynamic preparations.
As much as possible, work in both the vines and the cellar are in rhythm with the lunar and planetary configurations. Through specialized courses and discussions with fellow vignerons, Pascal now better comprehends the complexity of this profession. The search for balance in every sector is a recurrent leitmotif.
The « other Mugnerets » :
Eugène and Eugénie Mugneret had five children:
| | | | | |
| --- | --- | --- | --- | --- |
| Marie | Georges | Emile | André | René |
Emile founder of Domaine Emile Mugneret, which later became Domaine des Perdrix, now managed by Domaine Devillard.
which later became Domaine des Perdrix, now managed by Domaine Devillard.
André founder of Domaine Mugneret-Gibourg 
which later became Domaine Georges Mugneret-Gibourg, currently managed by Marie-Christine Mugneret-Teillaud and Marie-André Mugneret-Nauleau.
René founder of Domaine René Mugneret that became Domaine Gérard Mugneret, now managed by Pascal Mugneret.
Eugène had a brother, Jules.
From Jules' "branch" of the family come these other domaines :
Jean-Pierre MUGNERET
MONGEART-MUGNERET
Denis MUGNERET which became Domaine Dominique MUGNERET